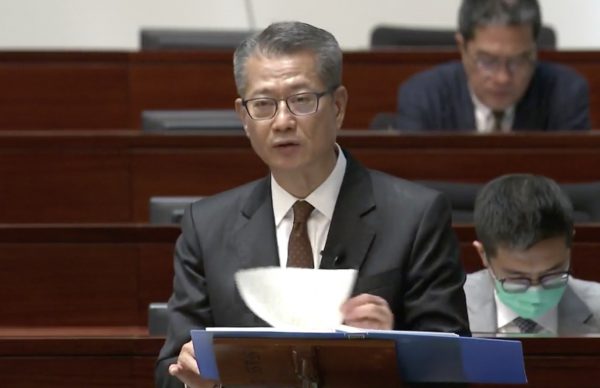 The Financial Secretary, Mr. Paul Chan, delivers the 2020-21 Budget at the Legislative Council at 11 am Today (February 26).
According to the Budget Speech, Chan said 2019 was an unsettling year fraught with obstacles and an unforgettable one for all Hong Kong people. He mentioned, "Preventing and fighting against the epidemic, as well as deploying resources to alleviate the pressure on enterprises and the general public, are our top priority.  Last week, we established the $30 billion Anti-epidemic Fund to relieve the burden on those industries and employees in the eye of the storm."
He pointed out that the Budget focuses on "supporting enterprises, safeguarding jobs, stimulating the economy, and relieving people's burden." He decided to implement counter-cyclical measures of a massive scale involving above $120 billion to meet the public's expectations as far as possible, including disburse $10,000 to Hong Kong permanent residents aged 18 or above, to encourage and boost local consumption on the one hand, and relieving people's financial burden on the other.
In light of the deteriorating employment situation, he said the government will provide additional annual funding of $30 million to enhance the employment programs of the Labour Department, to further encourage employers to hire the elderly, young people, and persons with disabilities.
He believes although a record high deficit is envisaged in next year's Budget, only with such a budget can we help our community and local enterprises ride out their difficulties.
Other related documents and further details, including Relieve Burden, Healthcare System, Diversified Economy, Land and Housing, Liveable City, will also be released simultaneously on the Budget website (www.budget.gov.hk).
Welcome to download 「點新聞」app in Apple/Google play store, or you can visit our home page:
Subscribe us in other platforms:
Facebook:https://www.facebook.com/Dotdotnewscom-106040667538957/
YouTube: youtube.com/c/dotdotnews點新聞
Telegram: t.me/dotdotnews
Instagram: instagram.com/dotdotnews